Hello all,
With so much happening at Bossa right now, we thought it would be nice to bring you up-to-date with the story of Worlds Adrift so far, and where we're going as a studio. This may be especially interesting for those who have joined us recently and weren't around during the Alpha days.
Worlds Adrift goes back a few years already, with the idea of the game first being conceived in a game jam around April of 2014. Back then we realised that the technology we needed for the game didn't exist. That all changed when SpatialOS was launched. Suddenly the game became a possibility, and so work began on fleshing out the initial concept.
An early in-house build was developed and in December of 2014 our Gamer-In-Chief, Henrique, put out a video asking if this was a game people would be interested in. (Note how he reassures the community that work was still continuing with I am bread.)
At this concept stage there wasn't a true crafting system in the prototype, and ship building was nothing like it is now. It mostly focused on the swinging mechanics, and how that would enhance exploration in a game. Yet the community's response was an overwhelming YES! 
And so work got underway and within a few months the game was already beginning to take shape, with noticeably different visuals to the ones we have now. The full video for the below gif can be found here.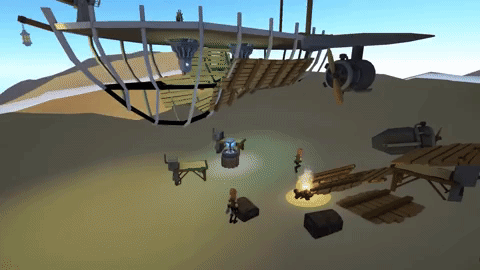 Up until recently Bossa have been a smaller studio. The game that we released into Closed Beta on the 24th of May was created by around 15 or so incredibly passionate people. Say hi to a few of them!
That's a pretty monumental undertaking for that size of a team, but we've got a plan for how to tackle these challenges going forward.
You may have seen that Bossa recently secured an investment of $10 million. A significant chunk of that has been set aside to help develop Worlds Adrift. This includes hiring new, experienced staff: from coders to designers, artists, and all everyone else this game requires – we're doublingthe team.
What does this mean for right now?
We're currently focusing on fixing core issues with the game rather than generating new content. This largely boils down to the fact that you don't want to build upon unstable foundations. We could keep making new, cool stuff for the game, but you won't be able to enjoy it if the game crashes or freezes constantly, or the core mechanics of the game are unbalanced, such as player interaction. 
We're working with brand new technology and we were the first studio to begin developing a game on the platform. That means there's no helpsheet for when something goes wrong. We're writing the helpsheet as we go. This takes time, sometimes more than we expect or would like. The client freeze issue is an example of this. We've released fixes on four separate beta branches over the last few months. Each one has helped the problem, but we've yet to crack its core. We will do it, though, just like we did with duping. 
Our new team members are hitting the ground running, and those who have recently joined have already made a valuable contribution in helping with these issues. 
That's all for now folks
We hope you enjoyed this brief summary of the game so far. Here's another picture of (not all) the current development team working away hard on Worlds Adrift: 
Does the room look a little bare? That's because it's part of our new office expansion! We're doubling the team, expanding our office, and committing to seeing Worlds Adrift through Closed Beta, to Early Access, and beyond. 
See you in the skies!